2008 Bordeaux Field Trip Series: 2007 Single Variety Tasting
I have just returned from a one week field trip with Institute Master Wine at Bordeaux. This time, we visited a total of 13 classified growth Chateaux, attended a morning session with the world renowned Oenologist Professeur Denis Dubourdieu, tasted multiple vintages in each Chateau and of course assessing 2007 as well! I was told that the first weeks of April belong to the world famous wine writers who will be assessing the wines in Bordeaux and negociants will be eager to work out the price of the en primers with the Chateaux owners for the consumers. I decided to put together a report for some of the highlights in the trip, especially those that will help us determine our future purchasing.
The first in this series is the 2007 Single Variety Tasting conducted by Professeur Dubourdieu at the Universite de Bordeaux.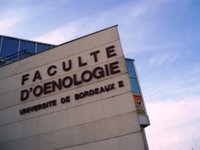 First, the 2007 climate is very different from that of 2005 which was lauded as the most successful year in Bordeaux for decades. Indeed, 2007 is more like the usual Bordeaux climate where rainfall can be excessive at times. While in other parts of the world where draught posed a threat to viticulture, Bordeaux has perhaps a little too much water. For 2007, there is abundant water in the grapes growing season, encourages more vegetative growth. Although this is mediated by crop management tactics, the excessive water can only be drained away (for gravel) or blocked 'away' (by clayey soil), depending on the soil type. In the Medoc region, red grapes such as Cabernet Sauvignon, Cabernet Franc and Petit Verdot are grown best on gravel soils where water drainage is most effective while Merlot is best on clayey soils where water stress is minimum. In order to discover how each grape variety reacts to the 2007 climate, we have the honour to taste the above single variety wines made by Prof Denis Dubourdieu and to acquire an educated opinion of the general 2007 Bordeaux in the Medoc region:
2007 Merlot
Deep purple color with a nose of berries laced with youthful leafy nuances. Medium-full bodied with a jammy flavor, liquorice and velvet tannins. Will provide finesse and flavour to the blend.

2007 Cabernet Franc
Purple ruby color with a green leafy nose. Pronounced acidity that is refreshing but feel little tannins in the palate. Rather single dimensional and will probably KIV in deciding its role in the final blending.

2007 Cabernet Sauvignon
Attractively deep purple color with intense red and black fruits laced with a leafy nose. There are traces of smokiness and jam in the flavour. Velvety tannins and a firm finishing. Structured and delightfully approachable.

2007 Petit Verdot
Very deep purple color. A nose of fresh fruits and spices that is attractively unique. High tannins with firm acidity. This is a multi-dimension profile which will add complexity to the final blend.

2007 Bordeaux Blend (Red)
Having tasted the individual variety, it is not difficult to imagine that Cabernet Franc will play a much smaller role in the final blending. It is therefore not surprising to see the blending ratio: 60% Cabernet Sauvignon, 22% Merlot and 18% Petit Verdot. This is probably by far the highest percentage of Petit Verdot used in a Bordeaux wine! The final wine has a complex nose of berries and spices, flavours of liquorice and smokiness, balanced with fruit acidity and a firm finish that will help the wine to mature over the next 5-10 years. An early maturity wine that has a good structure and finesse.

2007 Semillon
Pale yellow with a delicate aroma of fresh apricot and white peach. Sweet smooth entry balanced with fresh acidity and a long finish. Delicate and yet refreshing. This wine exuberates finesse and power. The grapes are planted on limestones which give the acidity by saturating calcium with the clay.

2007 Sauvignon Blanc
Pale yellow with aroma of passion fruit laced with green leafy notes. Probably higher acidity than the Semillon. It has a mineral finish that gives a "kick" to the palate. The grapes are also planted on limestones which are famous for contributing to the acidity and mineral flavours in wines.

2007 Bordeaux Blend (White)
The final blend is a beauty indeed. Pale yellow in color, it has a beautiful nose of peaches and apricot, nice refreshing minty flavours. Smooth in the mouth and has a long mineral finish. I was told that the wine was on lees for 10 months, individual grape variety wines were aged in 1-year old barrel separately before blending. There is definitely more proportion of Semillon in this blend.
Conclusion
The 2007 Red Bordeaux is quite similar to the 2004 vintage, more of a classical expression of the Bordeaux climate. If the winemakers of other Chateaux also have a similar experience on the Petit Verdot, 2007 may mark the year where this variety has a major influence in the final wine character. The 2007 White Bordeaux is by far an outstanding beauty, especially with the more attractive Semillon in the blend. Juicy and yet refreshing, it could outshine its Red counterparts! With these results, I will also watch out for the delicious sweet wines at Sauternes and Barsac :)
By Cher Lim
Wine Treasures Pte Ltd
http://www.wine-treasures.com/
Email:
cher.lim@wine-treasures.com
Labels: Tasting Notes