Wine @ Cambodge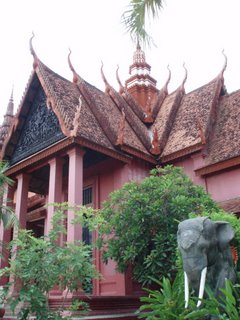 When I was invited to attend a spa opening in Cambodge (Cambodia written in French), I thought it is a great opportunity to practice my limited French after 15 weeks of elementary lessons. We (my husband too!) went onto the plane with my everyday French handbook and an intense curiosity since it is our first trip to this ex-French colony.
Our stop is Phnom Penh which is the capital city of Cambodge with about 2 million people. It is known for its French influenced architecture. Indeed, we saw a number of French styled buildings along the way from the airport to the hotel. It is a busy city - the traffic is heavy, populated by MPVs intertwined with motorcyclists carrying 3 to 4 piller riders. People are busy going about their everyday business. The preferred currency is US dollars for all forms of transactions, including buying food from the wet market.
We have a great host who filled our schedule with various site seeing and lots of great food. There are a number of French eateries in Phnom Penh but they are not exactly in authentic French style. I think it is due to the lack of suitable ingredients and the need to make it affordable. Service is great and unpretentious. We had almost non-stop dining throughout the 2 days of stay. As most of the guests in this trip do not drink wine, I have to settle with the wine-by-glass menu available.
Since I wanted to practice French, I decided to speak to a waitress with my 'elementary' accent to order my meal. It is probably my most interesting experience because she made it a point to correct my pronunciation and grammar! I did get my food right and she took the order with due diligence. Finally, when I wanted to ask for the label of the wine-by-glass menu, I realized I have run out of vocabulary. So, I just settled for a glass of white wine without knowing where it comes from.
To my relief, the wine turns out to be of reasonable quality. It is a blend of Chenin Blanc and Chardonnay, probably from South Africa. The chardonnay adds body to the wine which is rather short in length. However, it is a nice aperitif, especially after much hard work in getting my order pronounced properly. The dinner concluded with much laughter and joy.
C'est des vacances fantastiques!
Copyright of Wine Treasures Pte Ltd
By Cher Lim
Wine Treasures Pte Ltd
Website:
http://www.wine-treasures.com/
Email:
limce@singnet.com.sg
Labels: Tasting Notes