Angelo Gaja Barbaresco 2000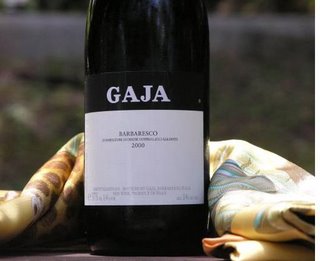 Tasting this wine again is a wonderful experience. My first tasting was almost 2 years ago when I was building my Italian wine portfolio. I fell in love with Gaja and have since acquired cases of the Barbaresco to be aged in my cellar.
Even in 2007, this wine is still fresh and youthful. Made from Nebbiolo grapes, the wine is expected to exhibit its typical profile: dark in color, tart and tannic with the best smell of cherries, licorice or truffles. These qualities are the jewels of a long aging potential wine.
I decanted it and waited for 30 minutes before drinking. The nose opens up like peeling off an onion over time. Red fruits and plum in the beginning and it evolves into some smoky, coffee characters. Licorice and truffles come to mind at some point in time. The color is extremely inviting, ruby in the centre. The wine is full-bodied with great tannins. Decanting is important to mellow the tannins since we are drinking a little early for this vintage. There is enough acidity to suggest further aging potential. Perhaps another 2 years in bottle will be ideal. The finishing is long and mineral. If we really want to have this wine now, decanting is definitely required and it will go very well with braised meat or something very strong like dry, aged cheeses.
I can't leave this page without saying a few words about Nebbiolo. It is a native Italian grape that produces long-lived and prized wines adored by collectors. Nebbiolo is the most famous appellation of Piedmont. It has its name derived from the foggy appearance when the grapes are ripe. Nebbia is Italian for fog. The grape skins are thin but tough and are resistant to molds and pests. It is a difficult grape to grow and even so compared to Pino Noir. A late-season ripener, the vines need the best exposures, especially in cooler climates, in order to reach maturity. However, when the conditions are right, this grape will produce one of the most delicious wine in the world and one that gives many years of enjoyment throughout its aging process.
Copyright of Wine Treasures Pte Ltd
By Cher Lim
Wine Treasures Pte Ltd
Website:
http://www.wine-treasures.com/
Email:
limce@singnet.com.sg
Labels: Tasting Notes