2008 Bordeaux Field Trip Series: 2007 Sauternes Tasting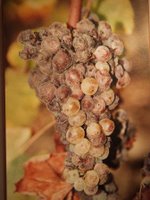 In the south of Bordeaux region and on both sides of the Garonne River lies a collection of liquoreux appellations. They are known for producing sweet wine wines from noble rotten grapes. The unique climate here is assisted by the cold waters from a smaller river, the Ciron. In autumn, cold water from the Ciron River will meet with the warm waters from the Garonne River, creating foggy mornings followed by sunny afternoons. Such an environment encourages the growth of a mold called Botrytis Cinerea which depletes the water content in the grapes and concentrates the natural sugar levels. The resultant juice of noble-rot grapes is syrupy with high sugar content with a matching high level of acidity, allowing it to age for than 50 years in some of the best vintages. Not all the grapes will be affected by noble-rot evenly, sometimes different from vine to vine and even from one grape to another. Harvesting is time consuming and often low yield. It is common for vineyards to perform multiple picking (called 'trie' in French). To give an idea of how small the yield can be, it is about a glass of wine per vine. The picture on the left showed a bunch of grapes that are affected by noble rot.
Chateau Suduirant

Built around 1670, Chateau Suduiraut is located on the southern end of Pregnac, just next to Chateau d'Yquem. The vineyard is about 40-50m above sea level, planting mostly Semillon (92%) and Sauvignon Blanc (8%). Fermentation is done in stainless steel tank and aged in oak barrels. For the Semillon, aging is done in new oak barrels whereas the Sauvignon Blanc is aged in used barrels so as to preserve the freshness of the fruits. Cryoextraction is sometimes used to freeze the grapes upon harvest, especially when the weather condition (e.g imminent rain) is unfavourable during harvesting.
2007 Vintage
This wine has a blend of 90% Semillon, 8% Sauvignon Blanc and 2% Muscadelle. Alcohol level 13.8% and residual sugar of 130g/L. In Suduiraut, 5 pickings were performed during harvesting (usually 3 in the past years). The wine has a nice amber color, concentrated nose of ripe apricot. Upon tasting, it has layers of peach and mango flavours balanced by the fruit acidity. Fresh and clean palate, very expressive of the fruits. This young vintage has a huge aging potential, perhaps in excess of 20 years.
Chateau La Tour Blanche
Believed to be established in the 18th century, the estate was named after Jean de Latourblance, Louis XVI's treasurer. The vineyard sits on the hill overlooking the Ciron River, planted primarily white grapes and a small quantity (~38 ha) of red grapes. Fermentation is done in wooden vats and aged in 100% new oak barrels for 16-18 months prior bottling. The almost unheard of red wine from this vineyard is called Cru de Cinquet. There is also the dry white called Les Jardins de Thinoy. This Chateau has probably the most interesting portfolio of wines among the Premier Crus Classes in Sauternes. We have the honour of having our lunch in this Chateau with a carefully designed menu of food and wine pairing, ranging from dry white to dessert wines for each dish. There is however no specific tasting of the 2007 vintage but the 2002 gives us an idea of what the style of wine from this Chateau.
2002 Vintage
Made with 80% Semillon, 18% Sauvignon Blanc and 2% Muscadelle, this wine has an attractive ripe pineapple and honey nose, orange flavour on the palate with medium length finish. Very refreshing indeed, with an aging potential of perhaps another 5-8 years.
Chateau d'Yquem

The best known and probably the most expensive vineyard in Bordeaux, its origins was dated back 1593 and it was acquired by LVMH in 1996. Quality control is strict and not every vintage wine is available. An aged d'Yquem wine has a lovely burnished gold color, sweet and unctuous and still astonishingly fresh. The vineyard is about 100 ha, planted with 80% Semillon and 20% Sauvignon Blanc. During harvest, the vineyard may use as many as 200 pickers to select the grapes for vinification. Its 2003 vintage is believed to be one of the best in its record as the climate conditions are almost perfect for the Botrytis.
2004 Vintage
An intense honey nose with subtle layers of citrus fruits. This is further accentuated with the flavours of lemon and pear. A velvet palate balanced with fruit acidity, long lasting finish. An elegant wine with great finesses and longevity.
Chateau Guiraud
Just like many vineyards in Bordeaux, this estate has gone through several ownerships. It was during the 1980s that Guiraud grew from strength to strength under the stewardship of the Narpy family, producing very fine vintages. The estate has about 100 ha of vines, 85% is dedicated to producing the premier crus sweet wines and the remaining 15% is for the making of the dry white, named G de Chateau Guiraud (Sauvignon Blanc).
2007 Vintage

Amber yellow in color. Intense aroma of apricot fruits and notes of honey. Sweet and smooth in the mouth balanced by the refreshing fruit acidity. Youthful and refreshing with a lingering finish. Great aging potential of at least 15 years.
Conclusion
The 2007 vintage is blessed with a good climatic condition, giving the vineyards both quality and quantity. Noble rot set onto the grapes with no complication and the wines are in general, deliciously juicy and honey like, yet balanced with a refreshing fruit acidity. The latter is greatly assisted by the Sauvignon Blanc which adds to the mineral character of wines. A year to be celebrated for its finesse and longevity.
By Cher Lim
Wine Treasures Pte Ltd
Labels: Tasting Notes